It kind of happened by accident that we ended up curating our own tasting menu when we recently dined at the Sonora Room at Burrowing Owl. Being of the curious type I of course checked out the menu before arriving for dinner on a Thursday evening.
Hot summer days that are followed by warm summer nights have an effect on my appetite and I prefer to eat lighter in the summer. As fabulous as the dinner menu at Sonora is I was gravitating to the appetizers (first course selections) on this beautiful evening. In fact I was so excited about the appies I decided, even before we arrived, that it would be fun and a bit adventurous to order everything on the menu all the way through the list, sharing the dishes, of course.
We were seated on the patio which was perfect; views, warm breezes and ambient light made for the start of what was to be a memorable evening.
We explained to our server what our intention was and she immediately mentioned the "evening's special features"  that were not included on the menu. Hmmm, time to rethink our choices? Not necessarily; you see I fall into the gourmand category of diner and for me anticipation plays a big role in my satisfaction with the overall experience. I was reluctant to switch already selected dishes for another unexpected dish so after a bit of discussion we made some compromises. We dropped one of the dishes we had agreed on before we arrived and added two, yes two, of the evening's special selections.
Rather than just start at the top of the menu and work down we carefully selected the order of the dishes. Follows is what we ate and our thoughts on each dish:
Amuse bouche 
A tasty Gazpacho of tomatoes, peppers & garlic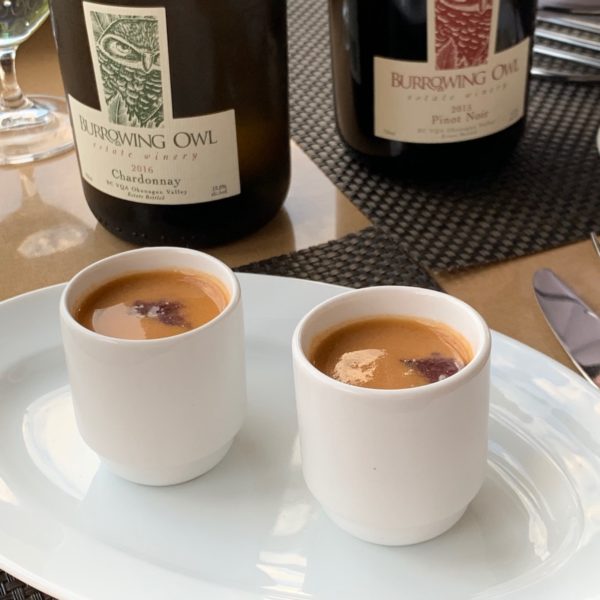 Duck Duo: Foie Gras Torchon & Rillettes
stone fruit, house made brioche, rose powder, caramelized honey jelly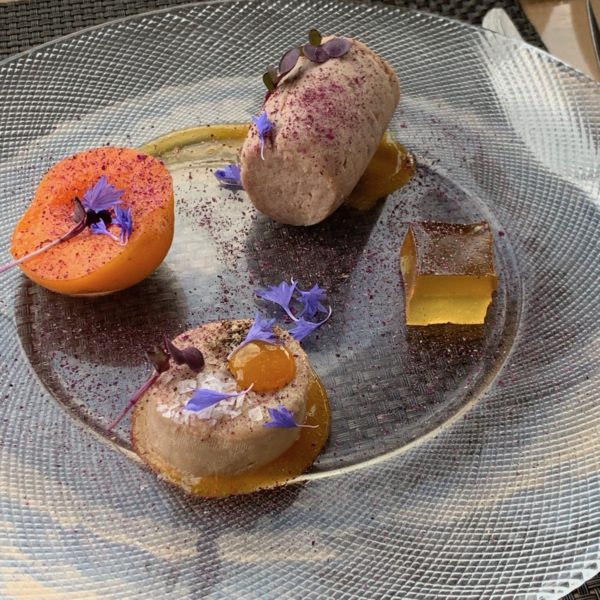 The Foie Gras was absolutely delicious, rich and creamy, very flavourful. Loved the salty broiche toasts. The finishing salt on the foie gras was well balanced with the apricot puree. The Rillette full flavoured and the duck was front and centre. So delicious with lingering taste, not fatty. If you're used to a rillette that is predominately pork you will appreciate how much better this one was with lots of pieces of tasty duck and pepper all enhanced by the apricot. The honey jelly packed a punch and was so good with the rillette.
Daily Soup
locally inspired Vegan Cauliflower Soup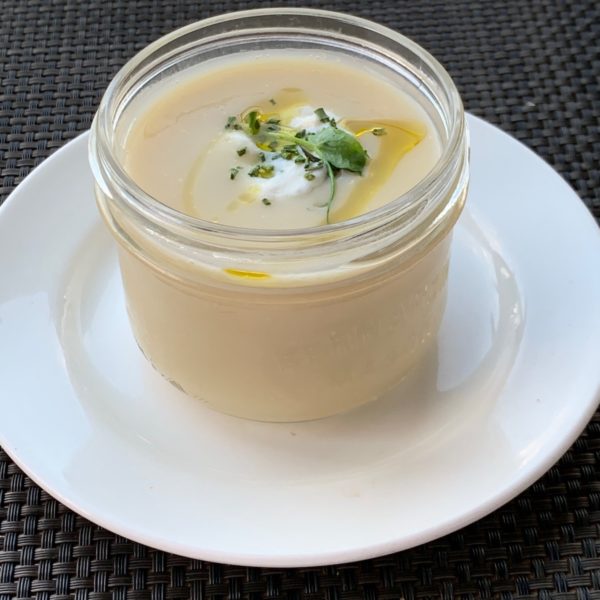 The soup was garnished with chives, yogurt (optional) and a drizzle of oil. I found the soup tangy but light on flavour. I am not a vegan, or even a vegetarian, so for my taste I thought it benefit from a chicken stock base and a good dash of heavy cream. It was better when I stirred in the yogurt. Bearing in mind we had just finished a flavourful salty dish. The flavours, though light, were lingering. This was a fine dish and I'm sure if my palate wasn't tuned into rich, creamy based dishes I would have enjoyed this dish more. This dish should have been our starter ca la vie, we'll know better next time.
Grilled Peach
half peach, Upper Bench King Cole blue cheese, house made pork cremalota, pork belly, watercress puree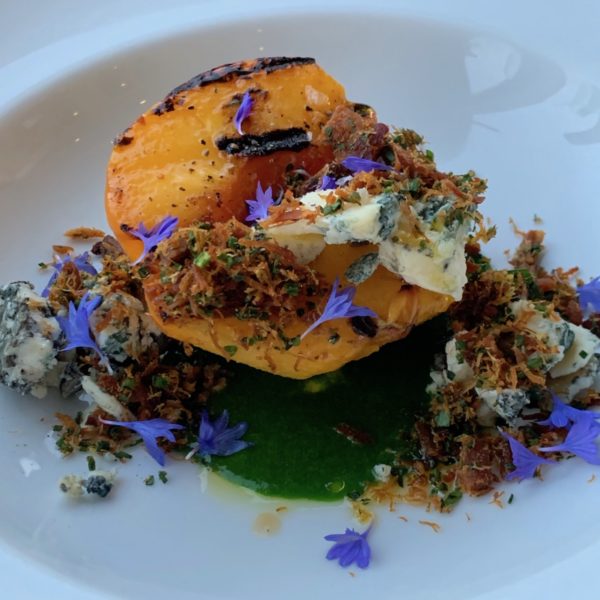 Is there anything better than a fresh BC peach? The blue cheese was an excellent choice with the peach, both warm and soft. A juxtaposition of soft cheese filled peach and crisp pork belly. The watercress puree (pesto) enhanced the peach and cheese and brought out the flavours. This was one of the specials and not on the menu.
Fine Point Farms Greens
goat cheese feta, fresh herbs, seasonal fruit, Burrowing Owl Estate Vinegar dressing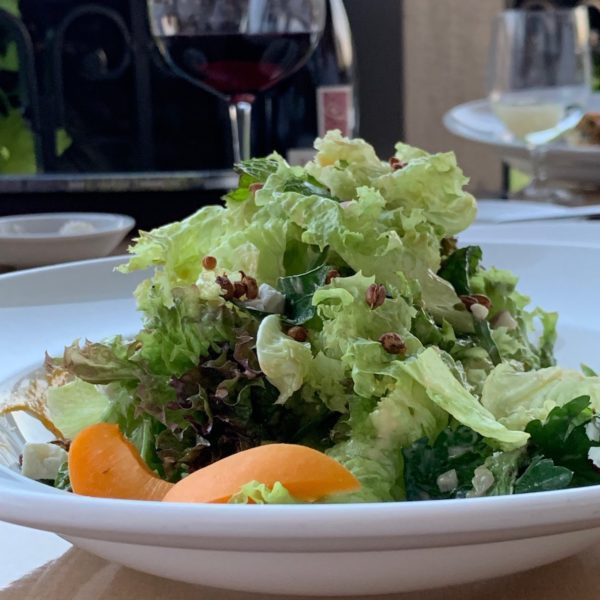 The greens made a good palate cleanser. Packed with crispy toasted wheat berries, tart goat cheese feta and mint made this a tasty dish. Loved the toasty flavour of the wheat berries that had been boiled then fried to crispiness.
Heirloom Tomatoes
herbs, mint and parsley, parmesan cream, herb pesto, puffed quinoa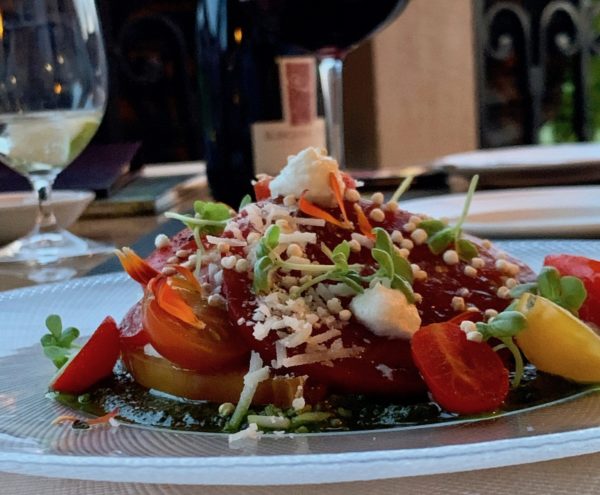 There is something very special about the seasonal heirloom tomato and this heavenly combination for a fantastic creation. I think I could live on tomatoes. This was the other special dish, not on the menu.
"Vitelo-Tomato" 
Albacore Tuna Gravlax, veal jus aioli, pickled ramps, capers, Amazia Farm herb salad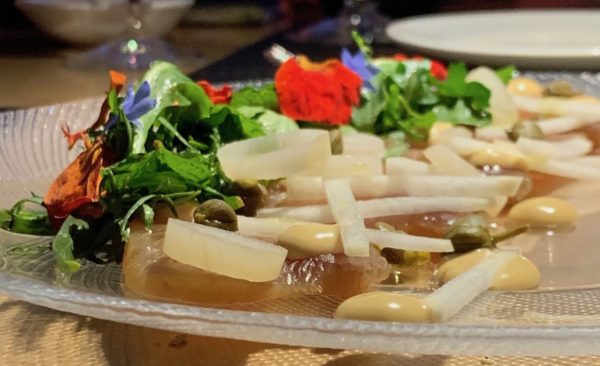 Very well presented house cured albacore tuna, a bit salty but fresh and very good. The veal aioli was delicious. Wish there had been more veal aioli to go with this dish. There are numerous ways to make vitelo tomato and this dish was more creative than authentic. If you are looking for the traditional vitelo tomato this was not it. Rarely have I run across anything close to authentic that would compare to what is so common in the Piemonte region of Italy. So enjoy this one for the well prepared dish that it is.
Melon Sorbet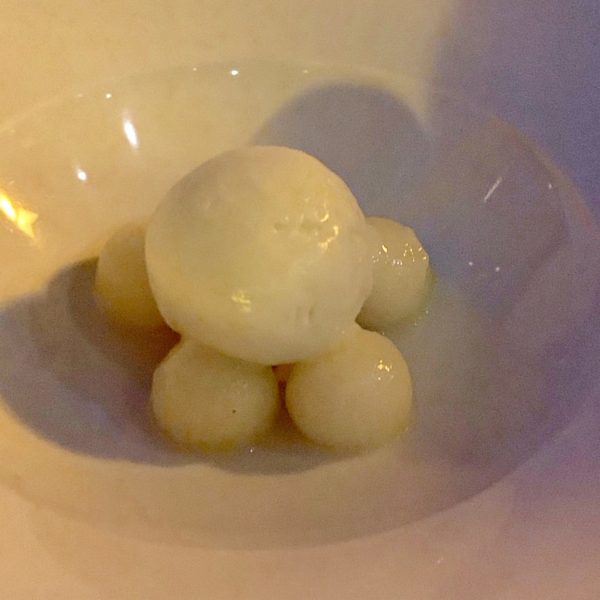 I am not a dessert eater, not even a chocolate fan but chef felt we needed just a touch of something to complete our meal. The sorbet had lingering flavours of melon, candy floss and bananas. It was a taster size and just right along side the mini chocolate, lavender macaron that comes at the end of the meal.
What we paired with our dishes:
For her Burrowing Owl 2016 Chardonnay, and for him Burrowing Owl 2015 Pinot Noir.
With special thanks to Chef Simon Bouchard whose dishes were incredible. Everything about the dinner was wonderful. We lingered for just over three hours enjoying the delights from the kitchen, the view and ambience, as well as the wines.
With thanks to the team at the Sonora Room for the memorable evening. I had not pre-arranged to write a review of our meal and therefore was taken completely by surprise when the dinner for myself and my guest was complimentary. Our heartfelt and gracious thanks. We left a gratuity equivalent to 20%. All opinions are my own and the comments (in italics) are from my notes taken during dinner.
 My review of our winery tour experience with Stephen Neumann, Brand Ambassador, can be seen here.  A review of our stay at the Burrowing Owl Guest House is pending (see my review from our October, 2018 visit here).
All images, except as noted, MyVanCity.ca. Feature image courtesy of Burrowing Owl Estate Winery.
Also thanks to Ford Canada for the use of the Ford Escape. It was pleasurable to know that we could thoroughly enjoy dinner because we were staying steps away at the Burrowing Owl Guest House. We received our one night stay at the Burrowing Owl Guest House at a trade rate.