One thing for sure if you are planning to go out for DINE OUT! you may not be prepared to sort through over 300 restaurants that are participating this year. Guess what? You don't have to. A fun loving group of foodie media met last night at ChiCha and we had just the best time and the best food!
ChiCha is definitely not the same old cuisine, not the same old venue either. If you are looking for a fun time, a casual and comfortable setting and really great food this is it!
So what did we eat? The short answer: everything! That's the advantage of dining in a group you can try way more dishes. Good thing ChiCha's Dine Out menu is made up of "share plates". That means even a couple can enjoy a selection of dishes.
What you get: choice of appetizers (there are two) so mix it up and other person orders the yummy Aji Amarillo Seafood Chowder and the one person orders the Quinoa Ensalada.
The Aji Amarillo Seafood Chowder is chocked full of goodies including locally caught fresh seafood, red nuggets potato, corn and ali amarillo. This was a rich and creamy chowder with flavours that mix and mingle. I really enjoyed this one and would definitely recommend the chowder for it's abundance of seafood and the comfort value of a warm bowl of chowder on a chilly and rainy evening. Perfect January offering.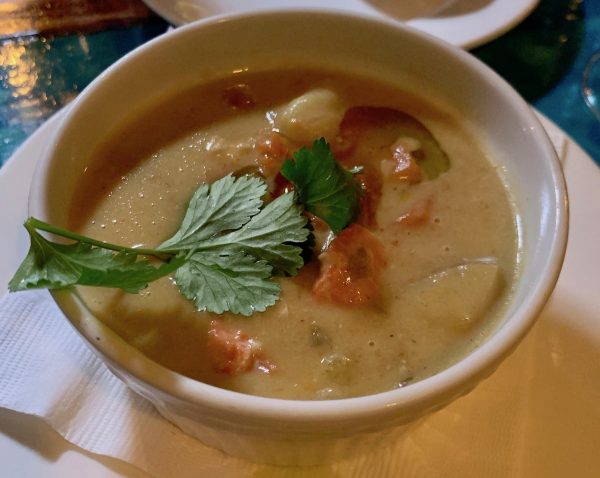 Thanks to the generous size of the Quinoa Ensalada everyone at the table had a chance to try this dish. Now I am not a health nut so I was really surprised how much I enjoyed the Quinoa. The combination of quinoa, mango, avocado, red onion, with Huacatay & lime vinaigrette and rocoto aioli made every bite a different taste experience. I'm a convert! You just never know until you try it and that's the point of Dine Out – get out of your comfort zone and try something different!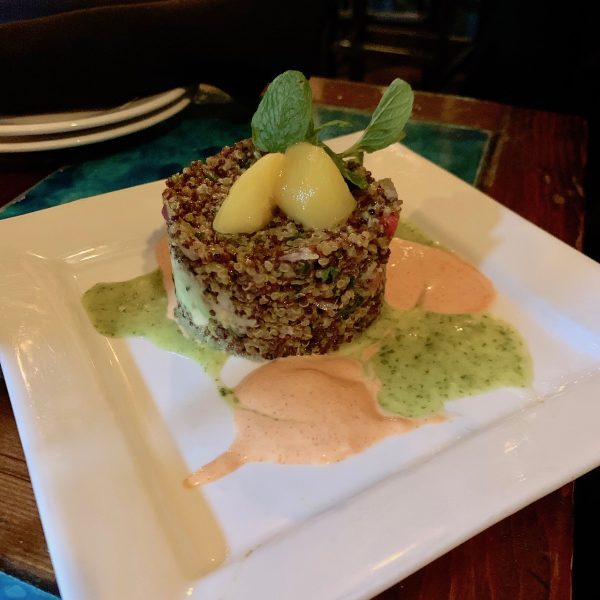 For the Main Course you choose two sharing plates from a choice of eight dishes. It really is hard to choose but again for a couple that means you can share and enjoy four delicious options. If you are a group of four or more you get to try all eight tasty dishes and be assured the portions of each sharing plate gives each foursome a more than adequate share.
Depending on the size of your appetite you can really fill up on some interesting Peruvian specialties. Who could resist the Chalaco Ceviche? Again a really generous portion of the freshest, quality seafood that included albacore tuna, wild sockeye salmon, pacific ling cod, prawns, fresh orange and rocoto dusted calamari. We just couldn't get enough of this classic dish.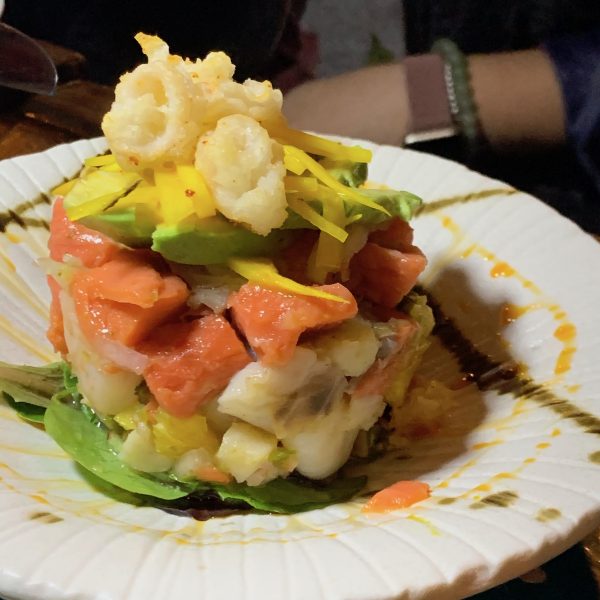 The Adobo, a vegetarian dish, with braised eggplant, panca chili, chickpea stew, feta and quinoa bread crostini. A super comfort food for vegetarians and non vegetarians. Mildly spiced and kind of like mom might make.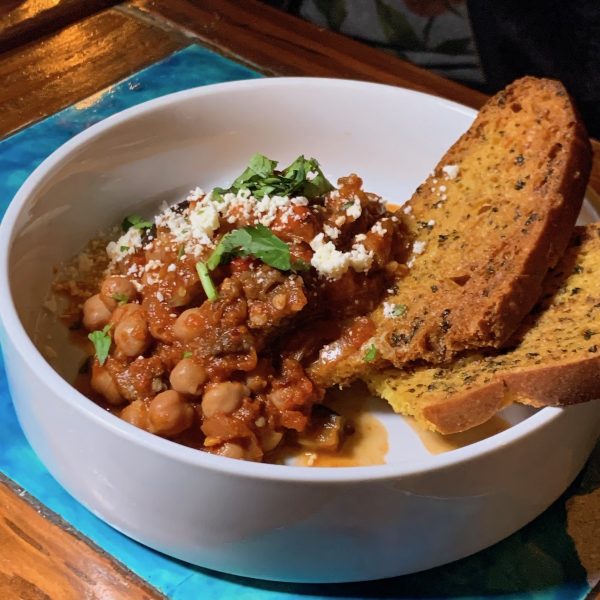 Another really substantial dish I would put in the comfort category is the Papas Rellenas, stuffed potato croquettes with beef, onion, black olive, and currant. So good, be careful this one will fill you up! The croquettes are crispy on the outside with a soft, flavourful inside.
I was pleasantly surprised by he Verduras Causa, a vegan option, packed with lots of flavour and competing tastes of beet root whipped potato, lima bean purée, pickled beets, haucatay and crispy (addictive!) rocoto yam chips. Just load up a rocoto yam chip with all that goodness for a dish that was very snack worthy.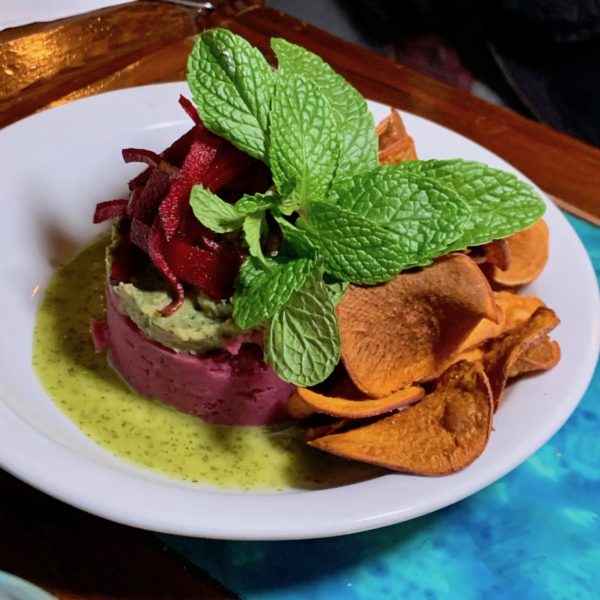 Also sort of on the light side for those looking for veggie options. The Cauliflower was toasty and slightly sweet. Quite different than I've tried before and I loved it. Crispy fried cauliflower, maple rocoto glaze, and yam purée. Sometimes this dish can be overpowering with spice or toppings but ChiCha knows how to do it right. This dish was so good it was hard to stop at a few bites. You may not want to share it!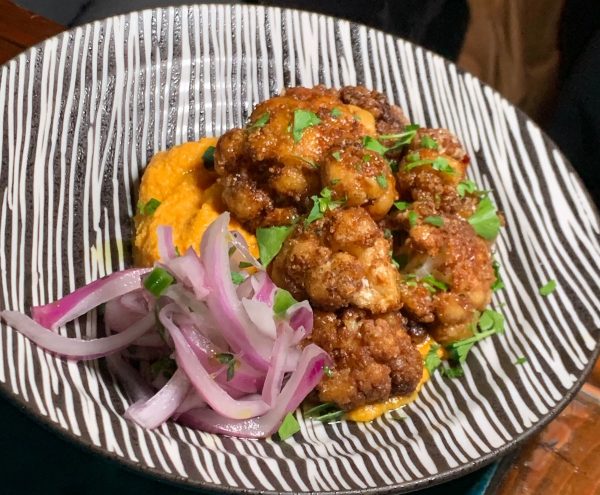 The Pollo Anticuchos was a dish that surprised me. The chicken thigh was crisp at the same time moist and tender. If you are a fan of chimichurri you will love this dish. Grilled chimichurri chicken thigh, feta lime cream and crushed cancha corn. Served on skewers for ease of sharing. A nice dish that is delicious but not too filling. Mildly flavoured for diners that are spice challenged.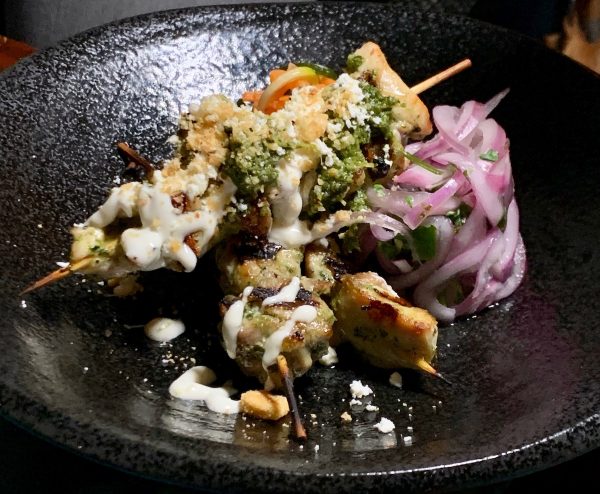 I love pasta and the Fettucine con Mariscos was an unexpected dish that I absolutely loved. It came near the end of the eight sharing plates but that didn't stop me from tucking right into this starchy dish. If you love rich, creamy pasta dishes this one is for you. I think I ate more than my share of this one but I just couldn't help myself. With seared pacific ling cod, prawns, wilted greens, cherry tomatoes and mesquite seafood corn sauce this dish really ticked all the boxes for me.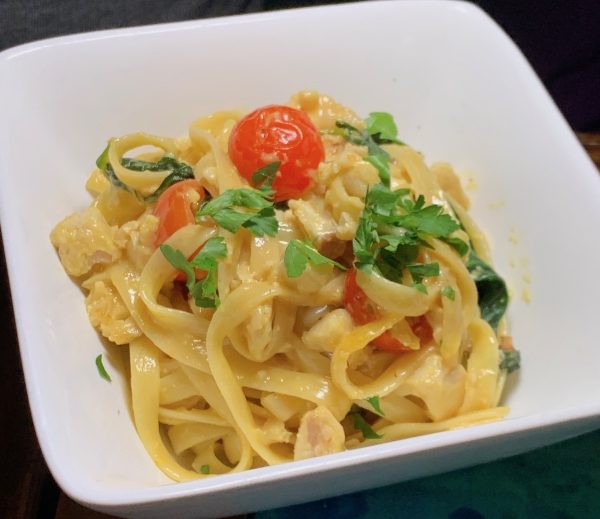 The last of the main course sharing plates was possibly the highlight of the evening for carnivores. Sweet and succulent Costillas de Cerdo was nothing short of fabulous. Don't be shy, pick up the rib and chow down on an orange & pance chili glazed baby back rib with green beans and bacon potato salad. Out of this world goodness. A must for lovers of grilled sublimity.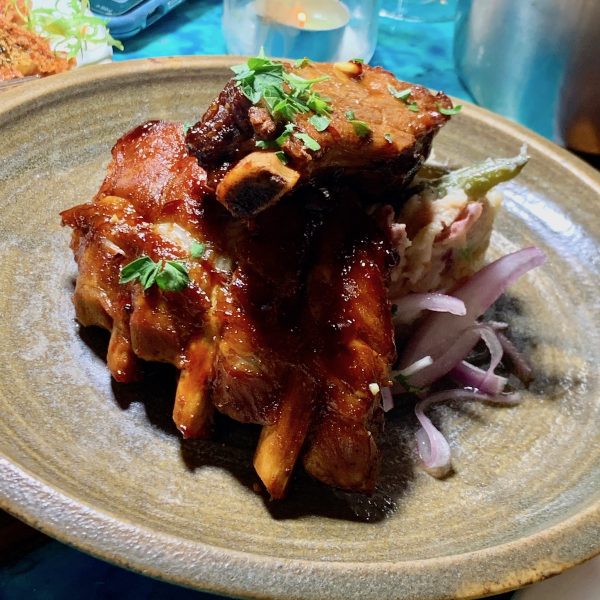 Of course no Dine Out menu would be compete without Dessert. With two seriously decadent desserts plus a fresh fruit option you may have trouble choosing. That's why you pick one of each and leave the fruit option for those suffering from the guilt of overindulging. Go on, you know you want to sink your teeth into the gooey options. The hardest part is deciding which to eat first. I nibbled on the Alfajores, a shortbread & dulce de leche sandwich cookie, accompanied with fresh fruit to appease your guilt.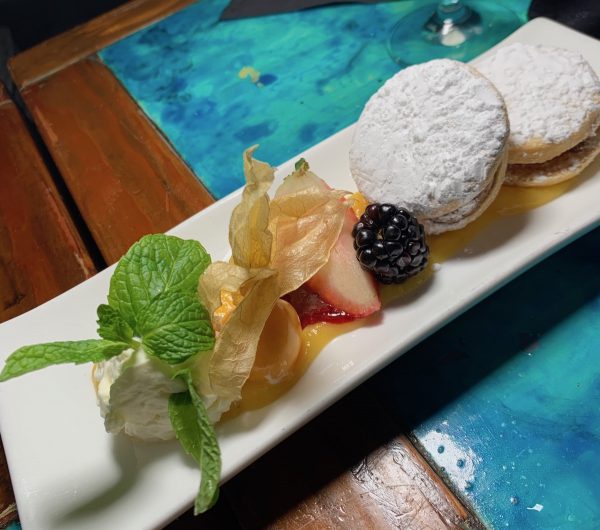 Taking a few bites and then diving into a Picarones with relish. A Peruvian sweet potato & pumpkin donut, with spiced honey, pisco and raspberry coulis. Don't panic about how to share because each of these dishes includes two of the Alfajores and two Picarones. I know, that's a relief you won't have to wrestle your dinner companion for your dessert, there's enough for both of you.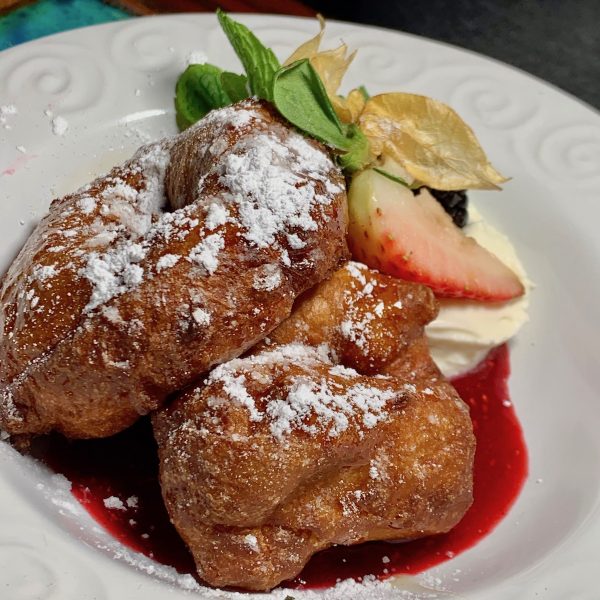 The Dine Out Vancouver 2020 menu is availabe at ChiCha until February 2nd at a cost of $35 per person. For ease of decision making ChiCha has conveniently offered a second  menu for vegetarians that offers an Appetizer, choice of three mains and a choice of three desserts all for $35 per person. That's a great selection and appreciated by those diners that opt to eat a plant based diet.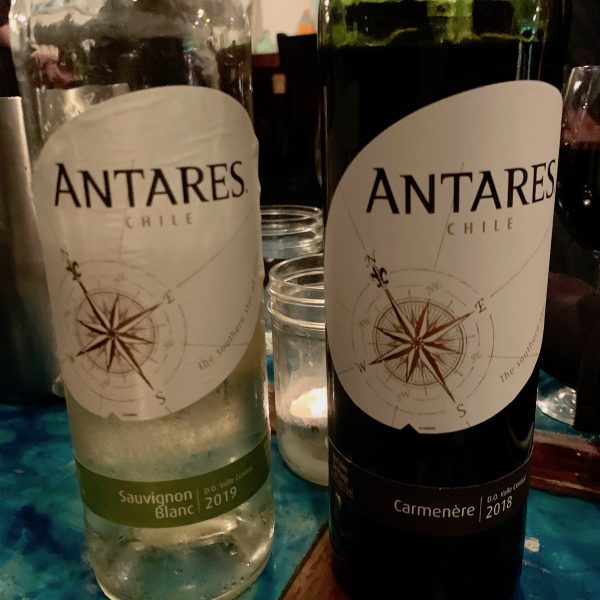 Please note that taxes and gratuity are not included in the price of the Dine Out menu.
I personally recommend the Dine Out experience at ChiCha. Enjoy a casual and friendly atmosphere at this cozy spot located on Broadway near Main Street. Street parking weekends and after 7 pm weekdays or enjoy a relaxing evening while traveling on transit. The 99 B line stops just steps away so whether you are coming from west or east ChiCha is easy and convenient by transit.
LOCATION
136 E Broadway

Vancouver, BC V5T 1V9
CONTACT
I joined a group of foodies and enjoyed a fabulous dinner of wonderful Peruvian dishes paired with Chilean wine, complimentary to facilitate this review. All opinions are my own. With thanks to Cassandra Anderton, Good Life Vancouver and ChiCha for the opportunity to attend and enjoy the Dine Out Vancouver 2020 menu.
[wdi_feed id="2″]