"In the Spring a young man's fancy lightly turns to thoughts of love."
Alfred Tennyson, Works of Alfred Lord Tennyson
For those of us with our feet planted more firmly our thoughts just may be turning to wine, specifically the wines of the latest Spring Releases. In this series of features, I will endeavour to update you on the new spring releases from some of my favourite British Columbia wineries.
Haywire Collection
This collection offers lively, texture-driven wines, most of which are vineyards designated using grapes from our own vineyards. The estate vineyard Switchback is certified organic, and Haywire is internationally recognized for making some of the most game-changing wines from the Okanagan region. Discover Haywire wines with personality from the valley.
Here are the next winery new releases:
Haywire The Bub 2017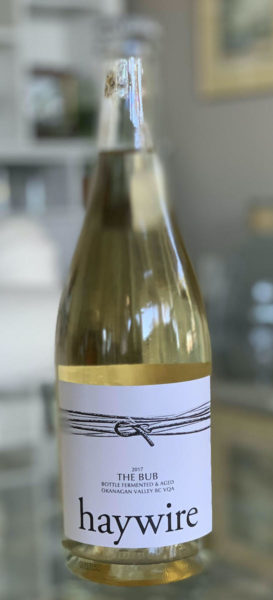 The Bub, named for our daughter Alison, known as The Bub, Bubster or Alibubba in her early years, is made from 55% Pinot Noir and 45% Chardonnay grown in Oliver and Summerland. Primary fermentation occurred in a combination of concrete and stainless-steel tanks, before bottling for secondary fermentation and ageing.
Dumayne says: The wine is crisp and fresh with delicious citrus and toasty notes and a textured, light
effervescence. Pair with soft cheeses, fresh oysters, or enjoy it on its own.
WINE PROFILE This vintage is a shining example of what the Okanagan does best – crisp, fresh and delicious.
Vibrant and alive with brioche and citrus notes. Layers of leesy autolysis meld with a delicate and very fine mousse. Bone dry and versatile. This wine represents the amazing ability of Okanagan Valley to produce classical traditional method wines and more importantly our dedication to organic farming and land stewardship.
$32.99
Haywire Vintage Bub 2014

Vintage Bub is a tribute to our owners daughter Alison, known as The Bub, Bubster or Alibubba in her earlier years.
Coming from a cool climate vineyard in Oliver, BC, the soils were studded with coarse gravel and sandy loan with limestone layers. The vineyard was planted in 2000 with Chardonnay, Gewurztraminer Pinot Blanc, Pinot Gris, Gamay Noir and Pinot Noir. Since 2010, it has been farmed under a conversion to organic farming practices that started in 2014. In 2018 when Brad and Dave Wise decided to retire, the winery purchased the property from the family and will carry on with the work that the Wise family has done for the past 18 years.
$43.99
Note: 2013 Vintage Bub $49.99 currently $43.99 available online now **
Haywire Pinot Gris 2020

This Pinot Gris was pressed and fermented in concrete, stainless steel and oak foudre using native yeast. It was put on lees for six months before being filtered and then bottled.
Only a few areas in the world can come close to the perfected texture in a glass, the dry extract levels and the viscosity of the grape. From vineyards in both Oliver and Summerland, we can really appreciate the Okanagan and all it has to offer regarding
fantastic white grape varietals. You will get rich, viscous, oily and tropical fruit balanced acidity layers of complexity when tasting.
WINE PROFILE Intensely textured and very fruit-forward with juicy acidity.
$27.99
Haywire Switchback Pinot Gris 2019

WINEMAKING Switchback vineyard was harvested in 2 batches and carefully whole bunch pressed to concrete. Native fermentation and full malolactic fermentation occurred before resting on lees for 10 months and bottled unfiltered.
"A special wine from a special place lovingly farmed and tended to. This wine shows the adaptability of Pinot Gris to represent the region and more importantly its site and micro-climate. Truly a wine that can only be known as "Switchback".
Switchback Organic Vineyard. Certified Organic in 2015.
WINE PROFILE The wine has a creamy mouthfeel with lively acidity and displays citrus and stone fruit characters with hallmark Okanagan herbal notes on the palate.
$28.99
Note: 2018 Switchback Pinot Gris $29.99 currently $28.99 available online now **
Haywire Gamay Rosé 2020

Rosé wines are our favourite, and this is no exception. Grapes were whole bunch pressed to concrete tank for ferment then left on lees for six months. The resulting wine is a lovely pale pink hue, bone dry offering an exceptionally creamy texture. *
Dumayne says: Delicate, bright fruit with an Okanagan herbaceousness coated in orange blossoms lead to a dry yet lush and mouth-watering rosé. Pairs well with fresh air, BBQ'ed salmon or halibut. *
$23.99
Haywire Pinot Noir 2020

Pinot Noir harvested mid-October from four distinct Okanagan sites in Kelowna, Naramata, Summerland and Oliver were destemmed with 30% whole clusters and placed in concrete tanks and large format neutral oak. Fermentation was natural as was malolactic. Each winemaking vessel delivered different characteristics in the wine, giving us options to use in the final blend. The wine was gently basket pressed and aged for 10 months before bottling unfiltered and unfined in August 2021 and rested until January 2022.
Ripe red fruit-driven with a forest floor earthiness that leads to a supple tannin profile and a beautiful length. Light acidity towards the finish that pairs beautifully with charcuterie.
WINE PROFILE A lavish aroma of delicate forest floor and bright berries entraps the senses with soft tannin.
PAIRING This wine is the perfect accompaniment to charcuterie boards with light cheeses, tuna tartare or roast poultry.
$27.90
You may find a limited number of previous vintages of these wines**  that are currently available at a really good price.
* 2019 wine notes.
Some of the wines in this feature are so new they have not been added to the winery website yet. If you need help selecting and purchasing the wines, or have a question about how the wines are made or want to join the Okanagan Crush Pad Wine Club reach out by email to jody@nullokanagancrushpad.com
ABOUT HAYWIRE Haywire offers pure, lively, wines that reflect the unique cool climate terroir of  Canada's Okanagan Valley. Founded in 2009, "haywire" is an old Canadianism that refers to the wire used for baling hay. Haywire tended to tangle and be unpredictable making it an apt description of  Christine and Steve's impromptu decision to own a winery. With home vineyard Switchback and sister properties Garnet Valley Ranch and Secrest Mountain now organic certified, Haywire is recognized as making some of the most game-changing wines from the region.  www.okanagancrushpad.com
Wine notes and pricing are provided by the winery. Images: MyVanCity. I received complimentary wine to facilitate this feature.