There is a lot of history behind the Naramata Inn that remains to this day within the welcoming atmosphere of a classic hotel. Billing itself as "a really great restaurant, with rooms" very much like the inns you find dotting the countryside in Europe, and France in particular, where dining is first and foremost exquisitely fine.
I had been wanting to return to the Naramata Inn since it had been taken over by new owners Ned Bell, Kate Colley, Maria Wiesner and Paul Hollands of the Naramata Hospitality Partnership.
There is no question that the Inn has been revitalized and re-invented by the team, it is evident in every nook and cranny. This unique property retains its charm of years gone by and with it's elegance invites you to experience a gentler time where leisure is more than a pastime, it is an experience.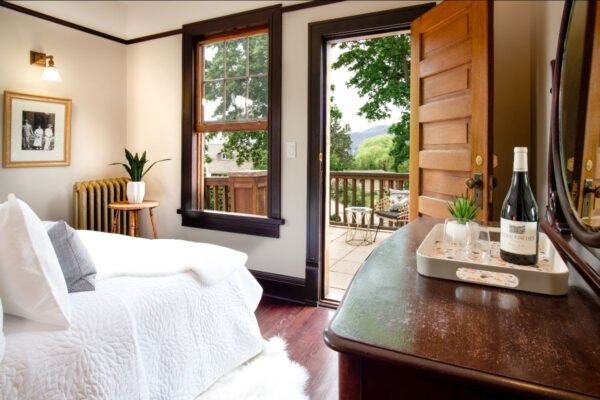 Step inside and you are immediately surrounded by quiet luxury. It's like you've left the hustle of the outside world behind as you walked through the front door. All the decor is true to its period, gleaming hardwood floors, artwork gracing the walls, the tea room, all delightful.
There are five rooms and a suite that range from Full, Queen and King to the Innkeeper's Suite. Each tastefully decorated and featuring thoughtfully curated amenities, footed bathtubs, comfortable beds with quality linens. Many of the rooms open to a balcony with views of the lushly beautiful gardens. Most of the rooms are cozy but gloriously comfortable.
Take some time to stroll the gardens because they are quite lovely. The perfect spot to enjoy a cup of tea in the morning or a glass of wine in the afternoon. Cozy up with a good book on the veranda. There are so many nooks and crannies to lose yourself in quiet contemplation.
Take some time to explore. Eliza, the re-imagined wine bar re-opens on Thursdays thru Mondays 4pm to 9pm starting October 27th. Lockated on the lower leverl of the Inn with an atmosphere of modern refinement in a comfortable indoor-outdoor setting.
"Eliza is the Naramata Wine Bar I've been dreaming of. Every great wine region of the world has an amazing wine bar, and bringing this experience to the Okanagan is incredibly exciting". Emily Walker, Wine Director
Eliza aspires to become the first great wine bar in Okanagan wine country.  Award winning Wine Director, Emily Walker has curated a wine program to delight, inspire and educate. An extensive by-the-glass wine selection will showcase local excellence in winemaking, augmented with benchmark wines from around the globe.  The extensive wine selection will be backed up by a unique, locally-focused cocktail program, as well as tastes of delicious "French Naramatian" cuisine from Chef Ned Bell.
Of course everyone who has ever experienced the culinary delights of Chef Ned Bell know you go to the Inn for the fabulous dining experience. Our dinner was no exception and we were spoiled by the wonderful dishes and the curated wine pairings. Here is what we experienced:
The dining room offers a 2 course prix fixe menu at $75.00 and a 3 course prix fixe menu at $85.00 with a wonderful array of choices for starters, mains and dessert, all available with wine pairings by the glass or by the bottle.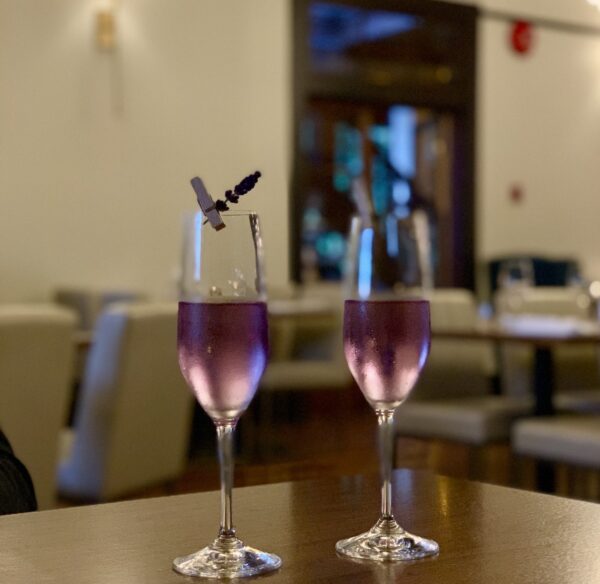 We started with a refreshing cocktail made with Arbutus Distillery's Blue Gin. A perfect start to the relaxing evening we had so been looking forward to.
One of my favourite indulgent dishes includes anything scallops so I just couldn't resist the Pacific Scallop and Corn dish for my starter.
The starters were both declared superb. Fresh Pacific Scallops were done to perfection, succulent and rich.The sweetness of the scallops melds perfectly with the fresh corn and the fermented cabbage and crispy pork belly elevate this dish beyond expectations. Paired with a glass of Little Farm Chardonnay.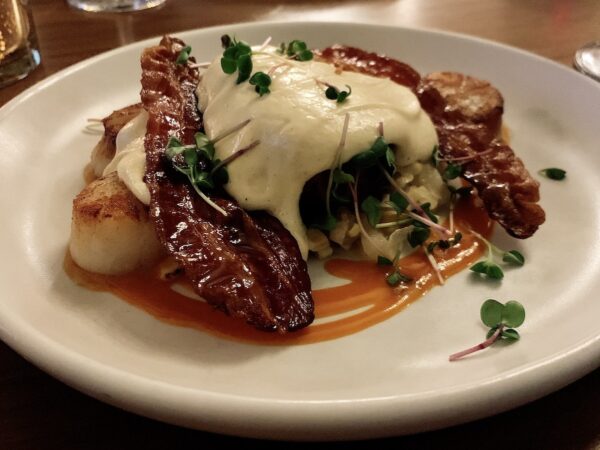 Hubby decided on the Beef Tartar which had been substituted for the Wild Salmon Tartar on that day. Chef Ned Bell is very particular about quality and had made the switch strictly for the integrity of the quality of the dish. The seafood served at the Inn is 100% sustainable and Ocean Wise supplied by Codfathers and they provide only the best product as available.  The Beef Tartar was deemed excellent. Supplier 63 Acres Beef is a family-owned farm that focuses strictly on quality, delivering delicious cuts of beef raised ethnically, naturally and locally.
Hubby so enjoyed the Beef Tartar, so very fresh with a perfect mix of delicious flavours and a firm consistency of flavourful chopped beef served with crostini. Paired with a Nikolaihof Grüner Veltliner from Austria.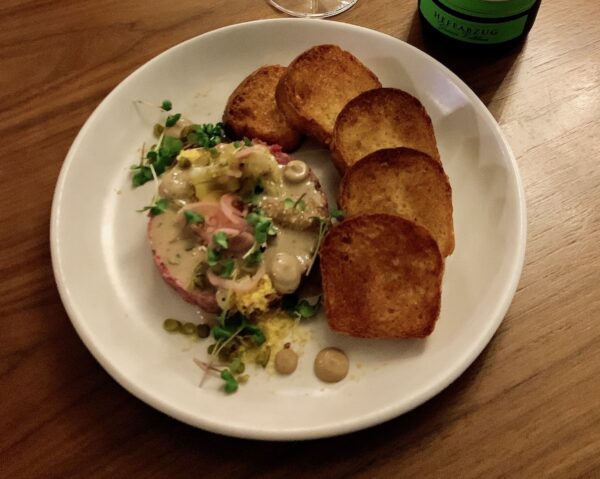 For Mains the 63 Acres Beef for me. I absolutely could not resist the Béarnaise served with the tenderist beef tenderloin ever. The plate was presented with two pieces of beef which was quite a substantial quantity but I was up to the challenge. Perfectly cooked to just slightly less than a medium rare which with the Béarnaise was simply devine. Paired with the vinAmité Hidden Corner.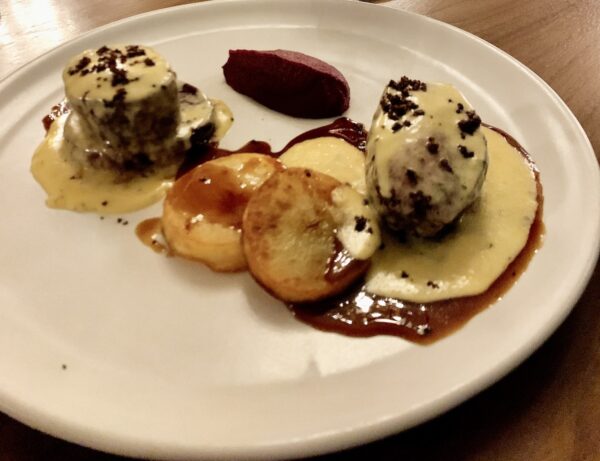 Hubby went rogue which basically means he didn't order salmon, instead the Dry Aged Fraser Valley Duck. Preparing a duck breast is a fine art of balancing a crispy outside with a medium rare inside. It was perfect, I know because of course we did a bit of sharing. Paired with a glass of Zinfandel.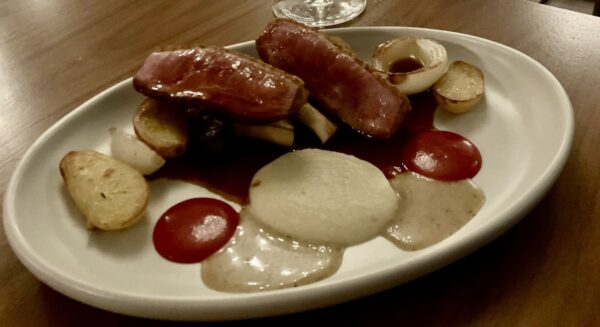 We tend to skip dessert but couldn't resist this time so we shared the Caramel Choux a la Crême and I was so glad we decided to indulge. Fabulous with the sorbet.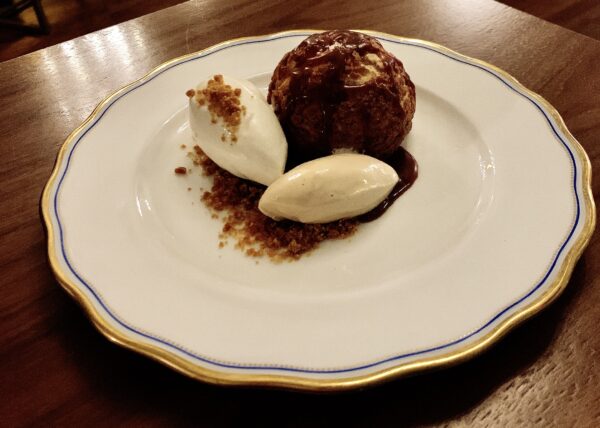 Dinner exceeded expectations! The food was prepared with every aspect scrumpulously crafted using the most flavourful, freshest, quality ingredients. I can't remember a dinner where everything was so well timed, with impeccable service and dishes that were of such consistently over the top delicious. I don't think I could possibly choose one dish over another because each dish was just so good. A remarkable feat that is obviously a labour of love.
One of the things I would note is the diverse selections on the menu, it's not an overly abundant menu but rather carefully selected dishes that showcase the talent of the chef and the diversity of the local produce. I can't think of an occasion where I could look at a menu and honestly say that there is not a dish that I wouldn't wholeheartedly enjoy. Every item on the menu is tempting in its own right. Four starters, four mains and four desserts are the perfect combination of tantalizing dishes that you would never tire of. The combinations are almost endless. Why you need to come back again and again. This menu, like the chef and his team, have nailed it.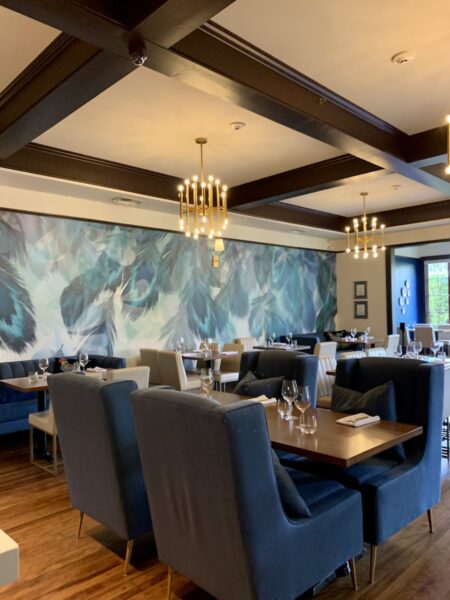 Dining at the Naramata Inn
Our mission is to bring the best of the Okanagan's gastronomy, hospitality, lifestyle and artisanship to the world. Our menus are inspired by the unique and diverse flavours, ingredients and producers of the region. They change daily, weekly and seasonally. We harvest ingredients from the Okanagan wild, sometimes even from our neighbour's gardens and push ourselves to only source and support small, local producers.
We care deeply about what's on your plate and can't wait to showcase, what we affectionately call, French Naramatian cuisine – a reference toour unique culinary philosophy that is rooted in classic French technique and elevated by the region's unparalleled ingredients.
Led by top Canadian chef and Okanagan-born Ned Bell, the Restaurant at Naramata Inn is a next-level, hyper-local dining experience. Throw in a stunning room and a passionate crew? Now you're speaking "Naramatian".
Known for his commitment to seasonal, sustainable menus (and his outgoing, all-in personality), Bell is utilizing his 30 years of expertise to showcase the unparalleled quality of the Valley. From produce to proteins, the menus is built around the best local growers and artisans in Naramata.
The culinary team is further bolstered by powerhouse sous chef Stacy Johnston and Minette Lotz in the role of farmers, fermentation and foraging —both Bell protégés and recent transplants from Vancouver. Because moving here is a common side-effect of visiting.
But what about the wine? Under the guidance of award-winning sommelier and wine director Emily Walker, our wine program showcases the true depth and breadth of award-winning wines produced by British Columbia—and beyond.
The Restaurant is founded on outstanding culinary experiences, warm Okanagan hospitality, and a true commitment to local artisanship. We cannot wait to welcome you.
The Restaurant at Naramata Inn is proud to partner with the Ocean Wise seafood program, where possible serving sustainable seafood to ensure the long term health of our oceans.
Starting late October and running through the end of November, many of our rooms are available at ultra-inviting rates. These special prices range from $99 for our full rooms to $359 for our two-bedroom Innkeeper's Suite to celebrate the in-between season. All dates and rates are currently posted right here. Guests are also welcome to call Front Desk for more details via 778.514.5444.
"Dine INN" Promotion Offers Incredible Value on Dinner and Accommodations
Notes (in italics) courtesy of the Naramata Inn, all opinions are my own. We enjoyed a complimentary one night stay including breakfast and dinner for two with wine pairings. A gratuity equal to 20% of the dinner was left for the dining room team and a modest gratuity for housekeeping. All images (except as noted) MyVanCity.