While already at Phantom Creek Estates doing what turned out to be a pretty spectacular wine tasting experience we also had the opportunity to stay for lunch. Wow, what a lunch it was. Note: bring your appetite!
What a terrific spot, an indoor/outdoor restaurant with more of those great views we experienced on the patio for our wine tasting. The weather was unseasonably warm, even by Okanagan standards, for early October.
The restaurant at Phantom Creek Estates offers diners two options; a two course, choose a starter and a main, or a main and dessert; a three course consisting of a starter, a main and a dessert. Wine pairing are available and your server is on hand to make recommendations of which wines pair well with which dish.
We chose to sit outdoors which affords a lovely view. The room has sunshades for comfort with a canopy to keep diners out of the direct sunlight. Starting with a glass of bubbly while we look over the menu. So many choices.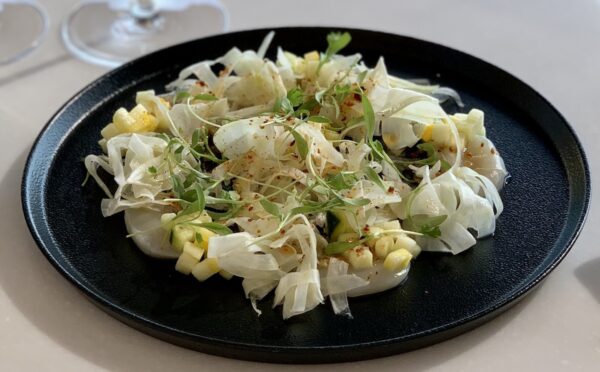 The day we stopped for lunch we enjoyed two selections; I couldn't resist the Hokkaido Scallops, accompanied by picled zucchini, fennel, xo saltk and micro cilantro. Needless to say it was superbly fresh and delicious. The scallops are finely sliced and succulent. My guest enjoyed the 63 Acres Beef Tartare accompanied by pickled shimeji, shallot, yolk caramel, mushroom dust, and on the side, beef tendon chips, which he shared by the way.Declared absolute perfection with tender beef that melted in the mouth.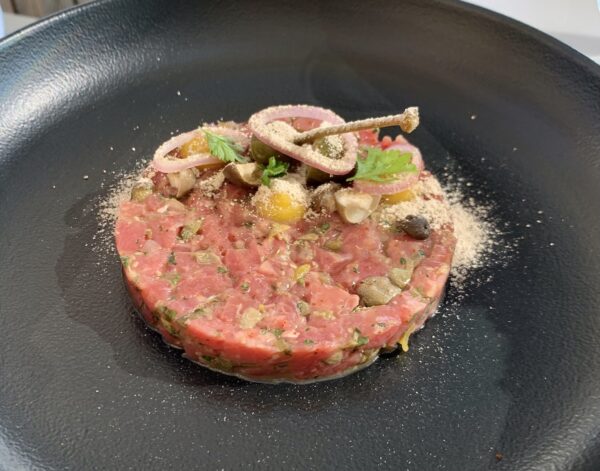 Being lunch time we decided to eat a bit lighter than we would have for dinner so  both us enjoyed the Tanto Latte Burrata, accompanied by field tomato, confit cherry tomato, peach, roasted almond, and honey. Served with house-made focaccia.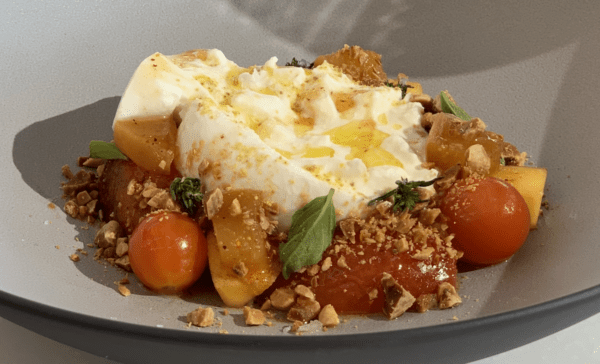 I paired my lunch with a 2020 Viognier. The wine was beautifully floral with a hint of oak notes. Refreshing with good acidity and the perfect pairing with both the scallops and the Burrata salad.
My guest enjoyed a 2017 Library wine – the Phantom Creek Estate Cabernent Sauvignon. This wine is only available in the restaurant. Fortunately my guest shared a bit with me so I could take a few notes. The wine had an earthiness with notes of dark fruits in its depths, very herbaceous with a hint of mushroom. The wine presented medium to heavier tannins with delicious flavours of cooked cherries and red fruit on the palate. The wine went so well, especially with the Beef Tartar.
Phantom Creek Estates Lunch Menu
Starter
Hokkaido Scallops
pickled zucchini fennel, xo salt, micro cilantro
Shaved Root Vegetable Salad
heirloom carrot, radish, beet, beluga lentil, beaufort cheese, citrus dressing
63 Acres Beef Tartare
pickled shimeji, shallot, caper, yolk caramel, muchroom dust
served with beef tendon chips
Main
Halibut
sweet corn succotash, tomato relish, herb & kohlrabi salad
Prairie Ranchers Beef Tenderloin
grilled padrôn peppers, cippolini onions, red pepper puree, black garlic, truffle jus
Peace Country Rack of Lamb
potato pave, patty pan, eggplant puree, grilled garlic scape, vadouvan just
Risotto
red kuri and delicata squash, grana padano, rosemary, sage
Dessert
Basque Cheesecake
preserved plum
Calisson Ice Cream
almond cream, canistrelli, apricot, okanagan melon, lemon, thyme
Rum Baba
cardamom diplomat, crepe dentelle, rhubarb
Black Seasame Éclair
mousse line, praline, choux pastry, strawberry
Menu Curated by
Executive Chef Alessa Valdez
&
Sous-Chef Elizabeth Kalin
I can't wait to go back again and experience a dinner at Phantom Creek Estates. The menu included so many options for mains that it makes you want to return again and again.
I was impressed by the use of locally sourced items that are used in the dishes. When was the last time you were treated to local lamb? I love lamb but do not order it in a restaurant because I have not encountered a local product, until now. Even the Burrata is from nearby. Definitely adds a sense of going the extra mile by both Chef Valdez and Sous-Chef Kalin but also to the Phantom Creek Estates commitment to the integrity of the land. Of course, what goes better with an organic wine than dishes prepared with experienced and loving hands using the finest locally sourced ingredients?
For locals and visitors alike the restaurant at Phantom Creek Estates is an experience that you will want to repeat, often.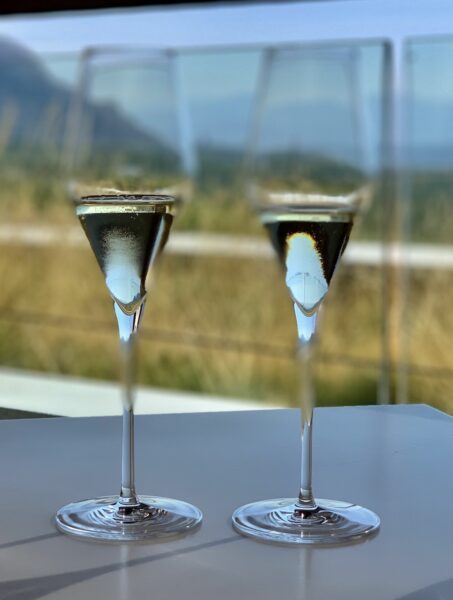 Reserve your table
Dinner service will be offered on selected days.
Embark on a delicious culinary adventure by joining us at our Estate Restaurant and experience Executive Chef Alessa Valdez's outstanding new menu.
Lunch service offered from 11:30 am to 2:30 pm on Sunday, Monday and Thursday.
Dinner service offered from 5:00 pm to 8:00 pm on Friday and Saturday.
*please contact concierge@nullphantomcreekestates.com for parties of 7+ or for additional inquiries.
Closed: Tuesday and Wednesday.
Starting November 1st, the Restaurant will be closed Monday-Thursday (hours of operations for Friday-Sunday will remain the same as October).
Our Wines Meet Their Match
Every dish that comes out of our kitchen is made with the same philosophy as our wines—to let the ingredients speak for themselves. Created by Chef Alessa Valdez, our stunning dishes pair perfectly with our wines, and are all made with local and artisanal produce on a menu that follows the seasons.
We feature a selection of multi-course menus and seasonal chef's specials. Your seat also comes with one of the most spectacular views of the South Okanagan and Lake Osoyoos, that can be enjoyed from the Restaurant and the patio.
View the October Dinner Menu here
This menu is from early October, 2022 and is subject to change. Note: to maintain the integrity of the culinary vision, substitutions or alterations made to the dishes are declined. Wine pairings are available for each course and each dish for an additional charge. Reservations are highly recommended. Images: MyVanCity. I received complimentary two course lunches for myself and one guest. A gratuity equal to 20% of the value of the lunch was left for our server.